PROJECT AT A GLANCE
Challenges
When Shopping del Sol's facilities doubled in size, its operators recognized the need for greater surveillance coverage and a system that could integrate into its existing security and life-safety communications solution.
Solutions
Shopping del Sol chose victor Professional Unified Management software because it could preserve the existing system, which used fixed and mobile cameras, and adapt it to the needs of a new design. This included the integration and expansion of a fire detection system. At the same time, the mall consolidated system management, so that security personnel could monitor everything from a single location.
Outcomes
By selecting victor as the surveillance platform, Shopping del Sol is well positioned to expand its security system in the future to meet changing needs. They can also take advantage of additional system capabilities, like video analytics. The victor system allows the mall to have a complete security system, including fire detection and monitoring, providing comprehensive control of all areas.
BACKGROUND
A Popular Shopping Center Doubles in Size, Requiring Security Coverage to Match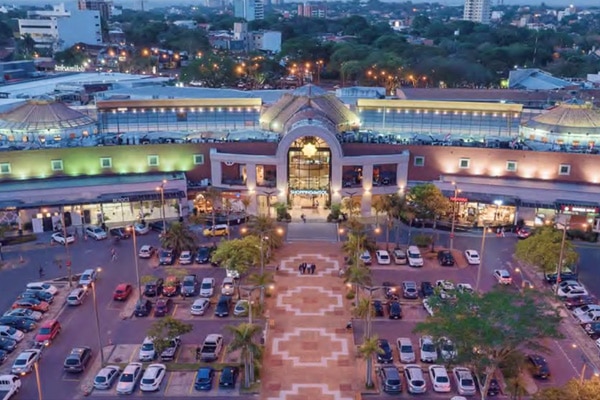 The expansion of Shopping del Sol, Paraguay's first shopping center, required the facility's operators to implement a state-of-the-art security system to meet the needs of its new design.

The shopping mall's previous system was not well-suited to ensure security in an establishment of its size. The CCTV system, for example, operated separately from other systems, and its functionality could not scale with the mall's growth.

As a result, Shopping del Sol saw the need to implement a state-of-the-art security system, which would provide better security for the more than 600,000 people who visited the mall for shopping, entertainment, and other leisure activities every month.
When Shopping del Sol's facilities doubled in size, its operators recognized the need for greater security coverage that would also integrate with its existing security solutions.
COMPREHENSIVE SOLUTION
Innovative Technologies Support Legacy Platforms and Next-generation Systems
Previously, retail security was primarily based on security staff being physically present in the mall, with video surveillance used as reinforcement. Today, the heart of the security system is the victor video Command Center, a central system monitored by team members who have the ability to take immediate action should an incident occur.

To meet its security objectives, Shopping del Sol selected a video surveillance system built on a set of core technologies:
IP Cameras provide various viewing angles, including a horizontal view and a corridor mode, to monitor all areas of infrastructure. They're ideal for retail stores, commercial buildings, healthcare facilities, banks, and others.
Network Video Recorders (NVRs) enhance security with comprehensive video recording solutions that offer unlimited scalability and better performance. These integrated and hybrid NVRs can provide real-time email notifications and improve response time to critical events.
Video Management Systems effectively monitor video, audio, and data in real time. This reduces review time and allows security staff to conduct investigations efficiently.


OUTCOMES IN DETAIL
A security environment that once consisted of only 60 surveillance cameras now has a robust, comprehensive security system featuring:
200 digital cameras
40-megapixel panoramic cameras in the parking lots
Two network video recorders
Integration with the 4100ES Simplex Fire Detection Panel, with 1,800 installed capacity points, including connected carbon monoxide detectors in the parking lots
Register now and learn about new Tyco products, promotions, and events. You can also easily manage your own subscription preferences. Sign up today.
Register for Emails
Contact Us