University of Iowa Hospitals and Clinics
PROJECT AT A GLANCE
Challenges
Security and safety are a challenge for University of Iowa Hospitals and Clinics (UIHC) due to the large amount of traffic, a growing number of buildings, and continual renovations.
Solutions
UIHC had successfully used C•CURE's security solution for visitor management and transitioned to the more robust C•CURE 9000 and related products for an integrated, flexible, efficient, and user-friendly security management system.
Outcomes
UIHC is benefiting from greater flexibility, improved efficiency, and enhanced effectiveness from its new security solution—and anticipates an even greater level of integration going forward.
BACKGROUND
An Expanding Medical Center Needs Robust Security That Can Scale With Its Growth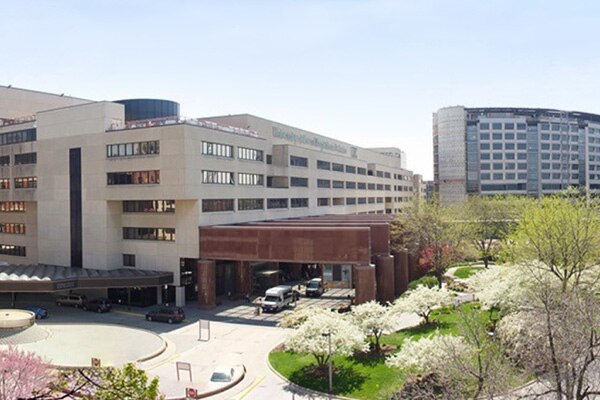 UIHC encompasses seven buildings at its main campus and more than 200 outreach clinics across Iowa. At the main hospital campus, nearly 16,000 visitors enter and exit the hospital each day.

About a decade ago, UIHC chose the C•CURE 800/8000 for its visitor management and event needs, and more recently added victor management software for its video surveillance.

With the upgrade of its security and event management system, UIHC is zeroing in on opportunities to run more efficiently and with more in-depth data to support a high level of situational awareness.
The integration capabilities of C•CURE 9000 and victor allow UIHC to continue using legacy security products and to access the hospital's HR database via C•CURE 9000 with a SQL interface.
COMPREHENSIVE SOLUTION
University of Iowa Hospitals and Clinics Again Turns to Tyco Security Products to Elevate Its Security Capabilities
The medical center selected four solutions as the foundation of its security upgrade:
Security and Event Management enables businesses to better safeguard their infrastructures with customization options for their specific needs.
Video Management Systems effectively monitor video, audio, and data in real time. This reduces review time and allows security staff to conduct investigations efficiently.
Network Video Recorders (NVRs) enhance security with comprehensive video recording solutions that offer unlimited scalability and better performance. These integrated and hybrid NVRs can provide real-time email notifications and improve response time to critical events.
IP Cameras provide various viewing angles, including a horizontal view and a corridor mode, to monitor all areas of infrastructure. They're ideal for retail stores, commercial buildings, healthcare facilities, banks, and others.
OUTCOMES IN DETAIL
UIHC's security management platform has allowed the organization to maintain a single, centralized security operations center for all of its buildings, regardless of location.

UIHC has also used its security management platforms to add efficiency and safety by creating an emergency lockdown button on the C•CURE 9000 interface. This enables users to put their department on lockdown in the event of an emergency or active shooter situation. The hospital has also implemented this capability in many of its new, off-site outreach clinics.
Register now and learn about new Tyco products, promotions, and events. You can also easily manage your own subscription preferences. Sign up today.
Register for Emails
Contact Us