Thrifty King Grocery Store
PROJECT AT A GLANCE
Challenges
As a busy retailer, Thrifty King wanted to bring all its stores onto a common intrusion alarm platform that allowed the owner to proactively monitor and manage the system, instead of relying on an alarm monitoring company or the police to alert them about security breaches.
Solutions
To manage multiple stores simultaneously, the retail chain opted for Tyco's PowerSeries Neo, which provided a flexible modular hybrid intrusion alarm platform at each site, with a series of keypads, door sensors, and motion detectors based on the needs of the specific location.
Outcomes
The wireless sensors and adaptive transmission path capabilities of the PowerSeries Neo system, deployed in combination with alarm.com, allowed Thrifty King to manage every part of the vast store from a distance. The interactive service provided by alarm.com allowed real-time monitoring and control of events through an easy-to-use interface.
BACKGROUND
A Single Intrusion Alarm Platform for Multiple Stores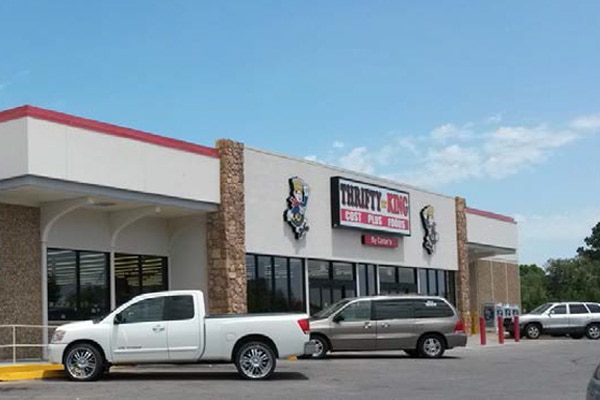 Thrifty King, a family-owned grocery store chain, has two stores in Kansas and one in Colorado. The owner wanted a common intrusion alarm platform to monitor and manage security, either at the store-level or remotely.
Considering that the retail chain had undergone a major remodel in recent years, the challenge was to install an intrusion system with minimal disruptions to the buildings and day-to-day operations. The store owner also wanted to have the same intrusion alarm system in every store, since store managers are often cross-trained to cover other stores.
COMPREHENSIVE SOLUTION
Flexible Modular Hybrid Intrusion System to Manage Multiple Stores Simultaneously
DSC PowerSeries Neo captured the reliability of a hardwired system and, when paired with advanced PowerG two-way wireless communication devices, easily met the store's needs.
DSC PowerSeries Neo is a modular, hardwired system that works with a wide range of wireless devices and peripherals. This results in a comprehensive and versatile hybrid system suited for both small and large-scale commercial applications.
PowerG Wireless Security Detectors are compact, easy to install, and provide reliable intrusion detection to keep your home, business, or facility safe and secure.
LTE Communicators uses the LTE cellular network for high-speed, reliable communications. These low-cost products work well with Sur-Gard System I-IP/II/III/IV/5 receivers.


OUTCOMES IN DETAIL
The installation of the new intrusion solution provided the store with the ability to reliably transmit alarm signals, despite the presence of support pillars, food shelves, refrigerators, and freezers located between the intrusion security panel, keypads, and sensors.

With all the stores having the same intrusion alarm system, store managers, who are often cross-trained to cover other store locations, can seamlessly manage and monitor the systems.

Being a highly scalable system, the owner of the chain can augment security by installing more sensors and integrate people tracking and foot flow monitoring as needed.
Register now and learn about new Tyco products, promotions, and events. You can also easily manage your own subscription preferences. Sign up today.
Register for Emails
Contact Us