PROJECT AT A GLANCE
Challenges
Real estate company Land Securities sought a new security system for New Ludgate—a £260 million development in central London—to integrate various systems, including video surveillance, access control, and video door intercoms, and to synthesize data to provide a clear and total security picture, preferably through a single-user interface.
Solutions
Tyco's C•CURE 9000 Enterprise united the New Ludgate project's disparate systems and provided the single, comprehensive security view that Land Securities desired.
Outcomes
With the help of C•CURE 9000, security operators were able to monitor events in real time, manage personnel, create reports, display dynamic views, and monitor system activity using a desktop computer, web client, or the C•CURE Go mobile app.
BACKGROUND
T yco Tightens New Ludgate's Security Systems to Protect Its People and Site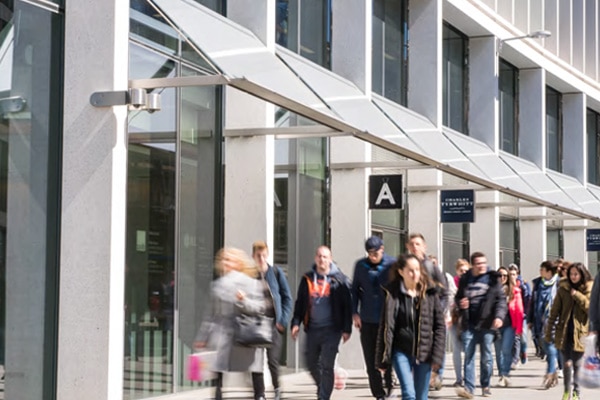 Land Securities, the U.K.'s largest listed commercial real estate company, chose Tyco to install a security system at New Ludgate, two distinct buildings, consisting of 355,000 square feet of office accommodation and 26,800 square feet of restaurant and retail facilities.

It was important that the new security system could integrate multiple systems, be managed through a single-user interface, provide the scalability and flexibility to accommodate additional tenants in the future, and adapt as the use of the buildings evolved.

In addition, the new security system needed to run on the buildings' common network, and communications between systems needed to work properly without affecting other network communications.
Land Securities wanted to design and build a fully-integrated security system to protect the people, site, and assets at its New Ludgate project in central London. In particular, the company needed tight integration between the buildings' lift systems and video surveillance system so that the control room operators could view alarms that combined video surveillance footage with lift activity.
COMPREHENSIVE SOLUTION
C•CURE 9000: A Flexible, Scalable, and Unique Security Solution
The C•CURE 9000 user interface provides the single, comprehensive security view that Land Securities desired from its new security system.
Security and Event Management enables businesses to better safeguard their infrastructures with customization options for their specific needs.
OUTCOMES IN DETAIL
Key to the success of the project was the ability of C•CURE 9000 to simultaneously monitor alarms from several different devices, systems, and buildings through a single-user interface.

The solution enabled Land Securities to manage and let out the site to many different tenants, simultaneously ensuring the overall safety and security of the site.
Register now and learn about new Tyco products, promotions, and events. You can also easily manage your own subscription preferences. Sign up today.
Register for Emails
Contact Us