PROJECT AT A GLANCE
Challenges
Harland and Wolff rigs have up to 1,200 people onboard and have potentially hazardous environments. The company needed a real-time solution to know who's on board and manage personnel and activities.
Solutions
Thanks to the CEM Systems AC2000 access control software, Harland and Wolff secured the vast site, enhanced the safety of all employees and visitors, and improved business efficiency.

Outcomes
The new system was extremely effective. For example, the time to muster all people on the rig for an evacuation drill declined from 45 minutes to nine minutes.
BACKGROUND
An Engineering Company Requires First-class Security That is Comprehensive and Flexible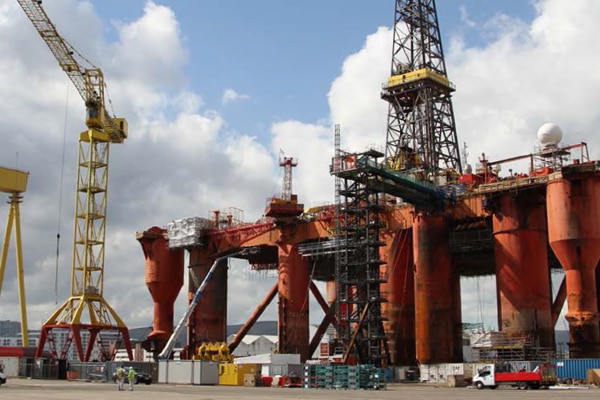 For Harland and Wolff, environmental health and safety management are essential. Selecting the right security management solution was critical.

At the core, the company needed a real-time scalable solution to know who was on board at any given time.

Tyco/CEM worked with Harland and Wolff to configure and install a comprehensive security management system that monitored the people on board and helped manage emergency situations.
For Harland and Wolff, a real-time, scalable security solution was critical to manage and protect people on its rigs.
COMPREHENSIVE SOLUTION
Tyco Provides Comprehensive Security System to Meet Harland and Wolff's Unique Challenges
A key capability for the engineering firm was coordinating large numbers of workers and visitors on rigs and managing emergency situations.
Security and Event Management enables businesses to better safeguard their infrastructures with customization options for their specific needs.
Readers, Exit Devices, and Cards are the most advanced in the industry and are designed for use with the powerful AC2000 access control and security management system.
OUTCOMES IN DETAIL
The Central Bank's security environment enables it to effectively manage day-to-day security operations with confidence.

As the organization expands its facilities, it is looking to Tyco to integrate perimeter security and fire security and prevention systems.
Register now and learn about new Tyco products, promotions, and events. You can also easily manage your own subscription preferences. Sign up today.
Register for Emails