Lakeland Regional Health Medical Center
PROJECT AT A GLANCE
Challenges
After a review, Lakeland Regional Health found that its security enterprise platform and its access control system didn't address anticipated future needs, which required a flexible, innovative, and scalable infrastructure.
Solutions
The medical center chose a security system built on an easy-to-use, intuitive platform that could work with its existing technology to maximize cost savings and benefits.
Outcomes
The conversion to C•CURE 9000 has allowed the security staff greater flexibility and efficiency in their efforts. In addition, it has provided the needed functionality to serve as a backbone for future expansion.
BACKGROUND
A Growing and Evolving Healthcare System Needs a Future-proof Security Platform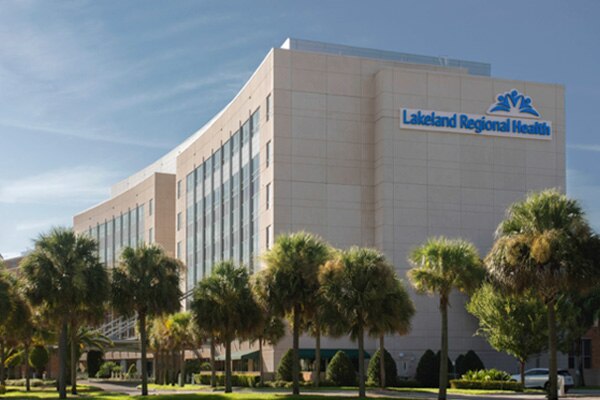 Lakeland Regional Health recognized that the security platform it chose would need to work with the organization's other facilities and be scalable for renovation or expansion of existing facilities, new construction, and acquisitions.

At the time, the facility had projects under way that included a new parking garage with specific access control needs and a new eight-story building.

Beyond scalability, the security solution needed to integrate existing systems including video surveillance, visitor management, and internal IT software, as well as specialized systems such as Wi-Fi-based, real-time asset location system.
COMPREHENSIVE SOLUTION
Flexible, Intuitive Solutions Deliver Immediate Benefits to Facilities and Patients
Working with its integrator, Stanley Security, Lakeland Regional Health chose Tyco's C•CURE 9000 Security and Event Management System and iSTAR Door Controllers as its solution.
Security and Event Management enables businesses to better safeguard their infrastructures with customization options for their specific needs.
Door Controllers prevent the public from wandering into restricted areas. They make security and building operations more effective by integrating with alarm panels, HVAC systems, and CCTV systems.
OUTCOMES IN DETAIL
The C•CURE 9000's ability to work with existing technology helped to maximize those systems by providing information on an easy-to-use, intuitive platform.

The migration to C•CURE 9000 has not only helped the hospital manage its internal security, but also serves as a resource for local law enforcement, allowing the hospital's security team to share video of events happening on the perimeter of the hospital.
Register now and learn about new Tyco products, promotions, and events. You can also easily manage your own subscription preferences. Sign up today.
Register for Emails
Contact Us